Cosmetic Dentistry
Cosmetic Dentistry in Kearney, NE
You are ready to give your smile the makeover it deserves. Maybe you've even started doing a little research of your own and you think you know which cosmetic treatment is right for you. Now, you just need to find the right cosmetic dentist. If you are looking for leading cosmetic dentist in Kearney, NE, Dr. Walter Martin, DDS here at Fort Theatre Dentistry, can provide you with full-service cosmetic dentistry.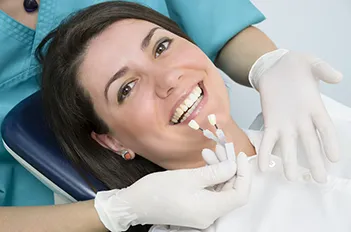 Our philosophy is focused on providing the highest standard of care to our patients to give them results that they love. We are focused on innovative, gentle, and efficient treatment options to cater to your needs. Whether you want to remove dental stains, fix cracked teeth, straighten your smile, or alter the shape of your teeth, we have cosmetic treatment to meet your needs.
Here are some of the procedures we offer:
Dental Bonding
This minimally invasive procedure is great for improving the overall shape, length, size, and color of a tooth. If you have a tooth that is slightly chipped or has a slight discoloration, or you have a small gap between two teeth, this can be corrected with bonding. We use a tooth-colored resin that we first match to the shade of your teeth and then we shape it to the tooth and harden it into place to hide these imperfections.
Dental Crowns
Crowns are a versatile restoration. They're typically used after root canal treatment to protect and strengthen the remaining tooth structure, but can also be used to cover damaged, imperfect teeth or replace missing teeth in conjunction with a bridge. In many instances, crowns allow the root structure of natural teeth to remain fixed in place while compensating for the loss of the upper portion of the tooth.
Crowns are hollow, tooth-shaped shells that fit over teeth. In size and shape, they look like the top portion of a natural tooth. Since the dental crown encases a tooth completely, the restoration is a good choice if you want to conceal an imperfection. If crowns are being used in the middle section of a bridge, these restorations must be solid not hollow, because they are taking the place of a missing natural tooth.

Teeth Whitening
Most patients these days come into our practice because they want a whiter smile. Professional teeth whitening at our Kearney, NE dental office can provide dramatic results and get teeth several shades lighter in under one-hour thanks to our highly concentrated whitening gel. We can also tailor whitening treatment to meet your needs and we provide both in-office and at-home whitening options based on your preferences and needs.
Veneers
These thin, hard porcelain shells are bonded to the front of one or more teeth to alter their appearance. Veneers become the outer surface of your smile, making them ideal for hiding a wide range of imperfections while also helping you achieve a brighter and straighter smile in just two visits.
Here at Fort Theatre Dentistry, we believe that everyone should have the smiles they deserve. If you are interested in getting cosmetic dentistry from our experienced dental team in Kearney, NE then call us to schedule an appointment today.
If You Are Interested In Transforming Your Smile With Cosmetic Dentistry, Call Fort Theatre Dentistry In Kearney, NE At (308) 237-5853 Today!