Orthodontics & Braces
Orthodontist In Kearney, NE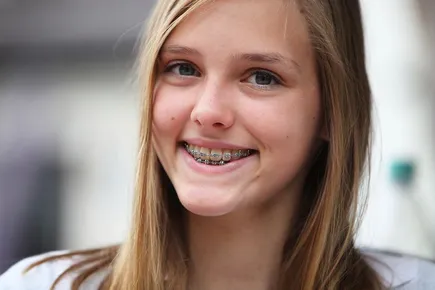 Dr. Walter Martin DMD has over 30 years of extensive experience in both general dentistry and orthodontics. In fact, after his time in the Navy, Dr. Martin taught orthodontics for 12 years in 39 different countries! Dr. Martin commonly referred to as Doc, is known for providing gentle, anxiety free dentistry and orthodontic care to patients in Kearney, NE.
If you're interested in straightening your smile, correcting bite issues or other orthodontic problems, then Doc is the expert you want to see! Call Fort Theatre Dentistry in Kearney, NE today at (308) 237-5853 to schedule a consultation.


Orthodontics
Braces aren't just for kids anymore. People of all ages are reaping the benefits of orthodontic care because it's never too late to get a straighter smile. In fact, more and more adults here in Kearney, NE are turning to our Fort Theatre Dentistry team for braces and other orthodontic solutions.
Here are some of the most common problems that have patients of all ages seeking orthodontic treatment:
Overcrowding
Crooked teeth
Crossbites, underbites, and overbites
Jaw misalignment
Gaps between teeth

Braces In Kearney, NE
Braces can correct all of these issues; however, the most important factor is choosing the proper type of braces to straighten your smile. We offer a variety of different braces for our patients to choose from:
Traditional Braces
This is still the most commonly used orthodontic treatment and advanced technology has made it significantly more comfortable than you may remember from your childhood years. We use sleek wires and smaller brackets for traditional braces that are comfortable and lightweight. Traditional braces are also great for correcting more severe and complicated misalignments.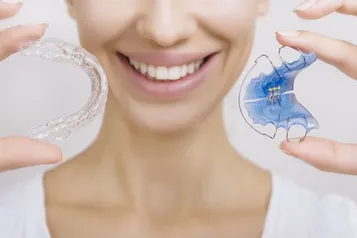 Clear Braces
These are similar to traditional braces; however, since the brackets are made from ceramics this orthodontic treatment is more likely to blend in with your smile. This is a popular option for teenagers and adults looking to correct more severe malocclusions who still want a more discreet and subtle orthodontic system.


Clear Aligners
These clear removable aligners make it easy to hide the fact that you are wearing braces. Invisalign can correct minor to moderate crookedness and misalignments in teens and adults. These aligners are worn for around 22 hours out of the day and can be removed before eating, drinking, brushing, and flossing. Aligners are worn for about two weeks at a time.
To truly find out which braces or Invisalign are right for you, you will need to come in for a thorough evaluation. We would be happy to set up your next appointment.
Are You Interested In Orthodontic Treatment Such As Invisalign Or Braces? Call Fort Theatre Dentistry In Kearney, NE Today At (308) 237-5853 To Schedule A Consultation With Dr. Martin.